I had the fabulous opportunity to go to Disney World 3 times last year (and Disneyland once). Four Disney trips in one year seems so extreme but each one was so very different I want to come up with a theme for each one!
100 Things to Do With 100 Hours in Disney World
My first trip was February for Presidents Day break which was just four days at the school district I teach in last year so I thought in spirit of our timeframe and how much we got done on a leisurely schedule it would be fun to do a play on the time. Without any further adieu, here it goes…
We woke up as early as we have ever gotten up for a Disney World trip. Here is a picture of me when I woke up (at 3:17am):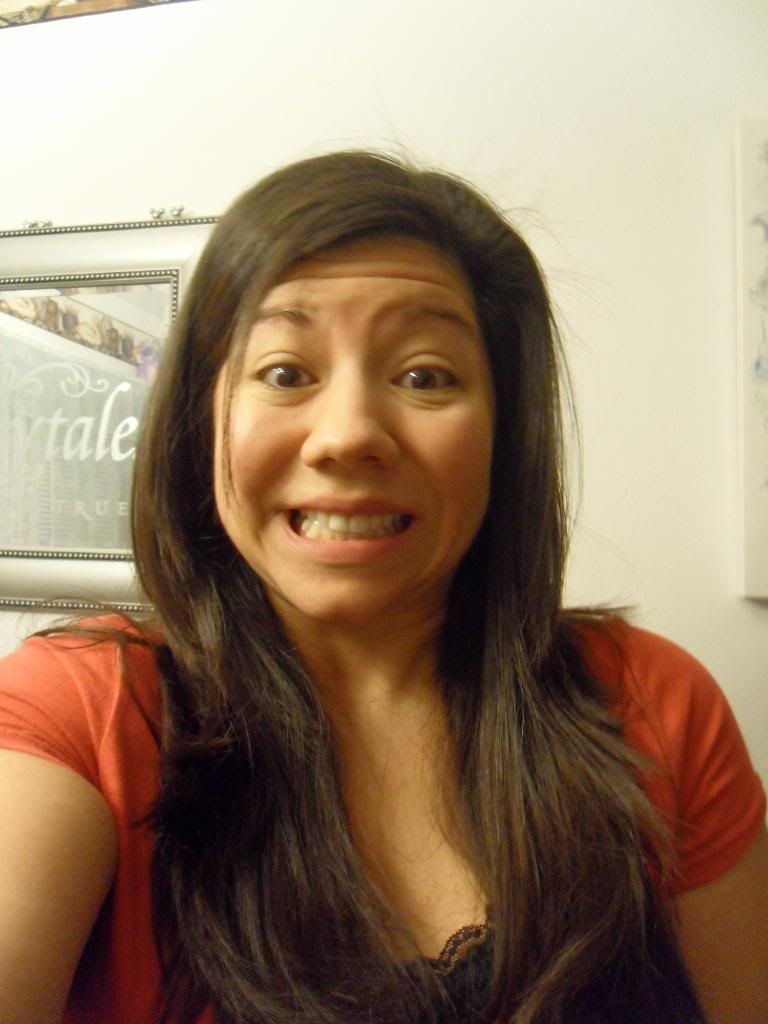 We grabbed our bags, and our pup and met my parents over at their house. We said goodbye to our puppy boy and headed out (my Dad drove us to the airport). We were on the
first flight of the day
. This was pretty cool. Everything was on time and easy breezy we even left a few minutes early! Off we went!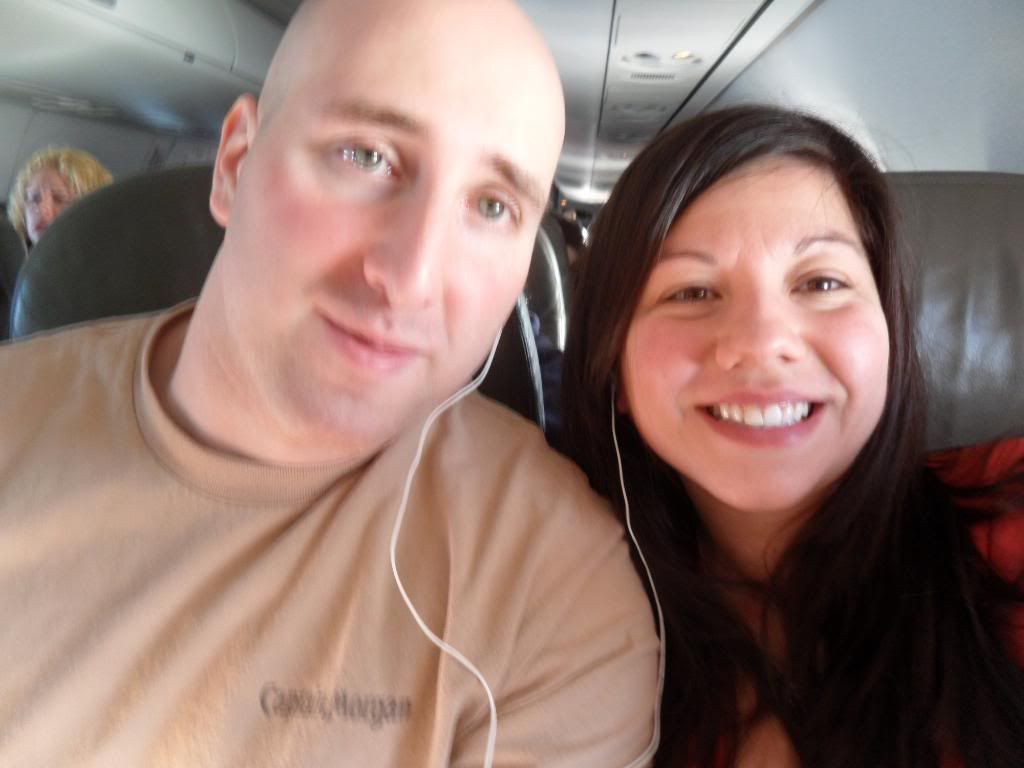 When we arrived, as per usual, I almost went the wrong way to get to the Disney's Magical Express pick up. I was very excitable at this moment and must be honest and say that I might have been a little impatient. The five minutes we waited felt like five hours but soon the Magic Kingdom resort area bus had pulled up. For my first time ever we sat in the
front of the DME bus
and I got some really cool pics through the front windows…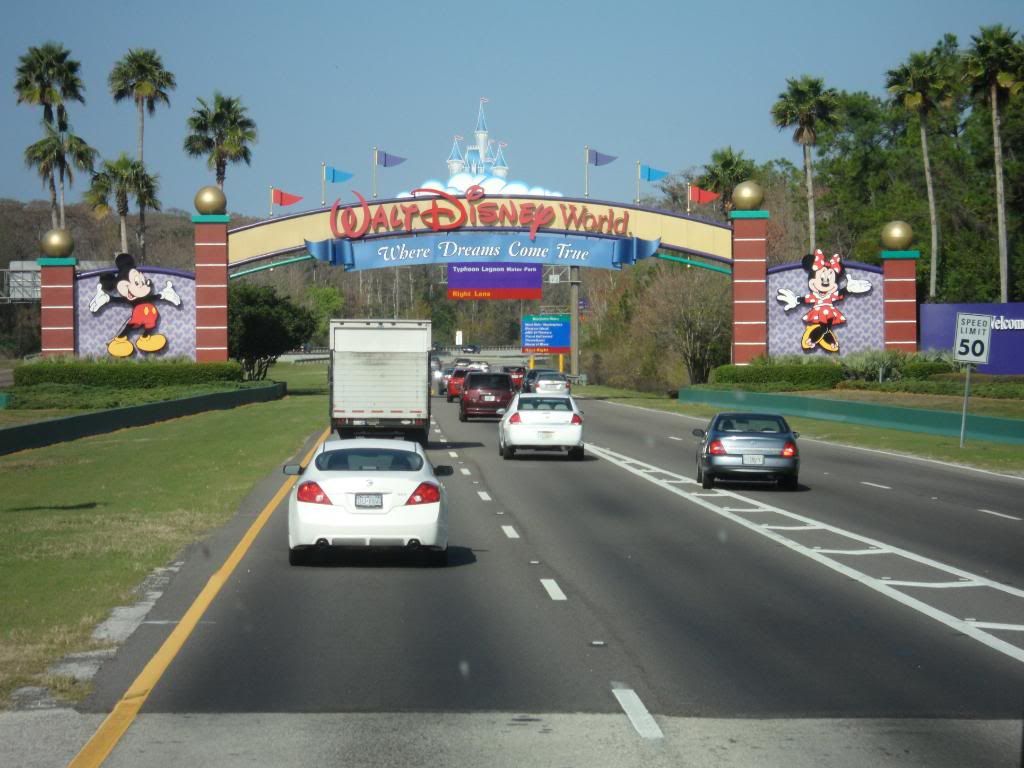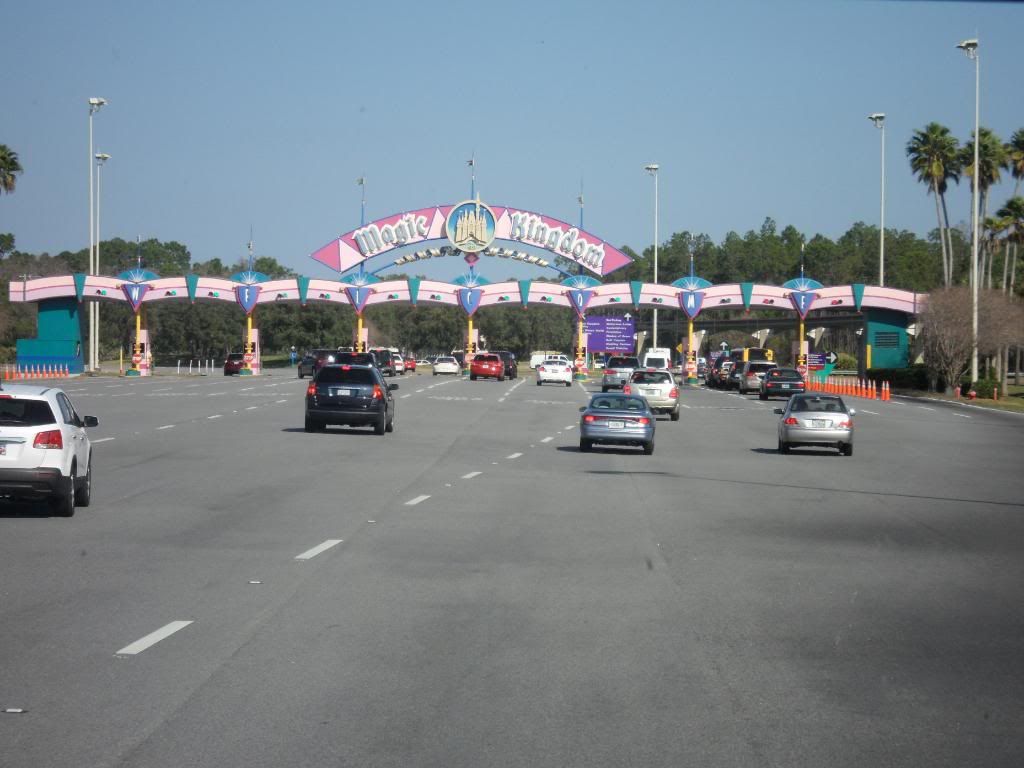 The bus pulled up to the Polynesian, our new favorite, and we were greated with an Aloha and a lei! This was the first time we had booked our own trip and we used
online check-in
for the first time. This was fabulous! Our room folder was all set up and waiting for us upon arrival! One step closer to a Disney park! Even though it was barely 10am our room was READY! Which amazed me- and off we went to check it out!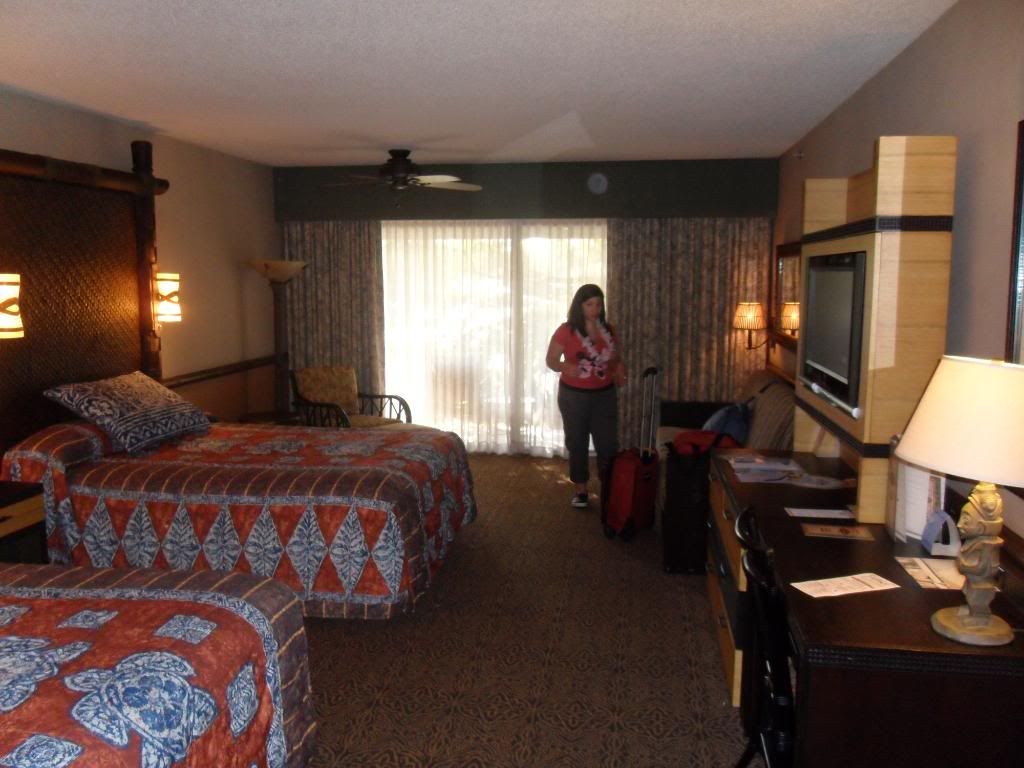 We dropped off our bags, took some pics and were off to Disney's Hollywood Studios. Since this was our first time getting the
Disney's Photopass CD
we started our time here with a few shots by Sorcerer Mickey's hat. :)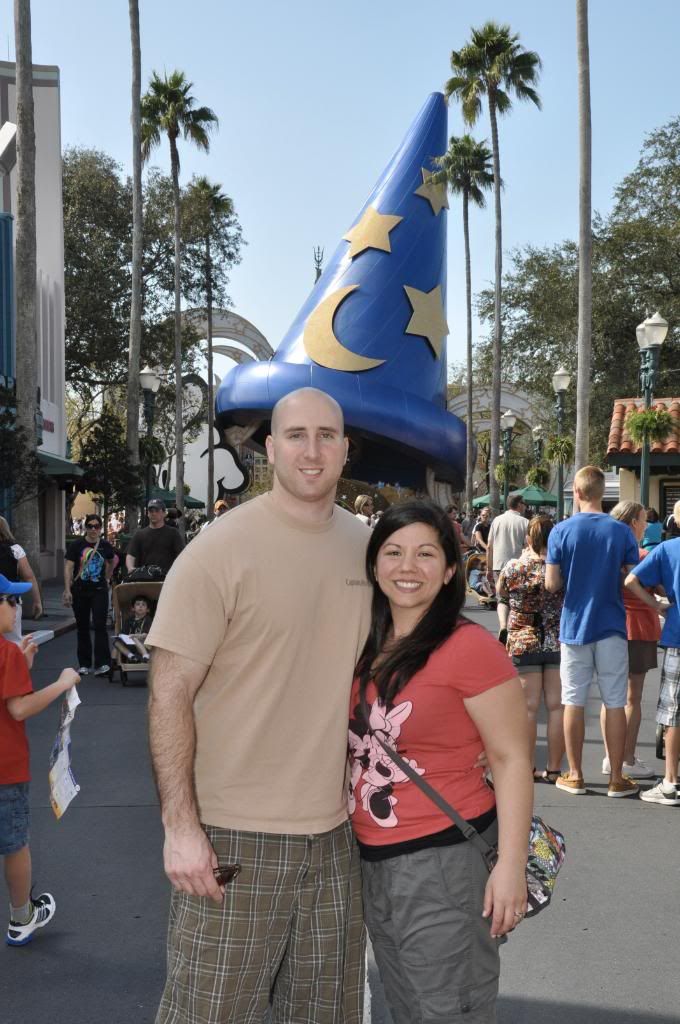 We couldn't decide exactly where to start, hubby wanted to Fast Pass Rockin Rollercoaster but all I wanted to do was hit The Magic of Disney Animation. We made our way up to grab the Fast Passes and snapped some pics on the way (I got a bunch of pics of the restaurants here for my Chip & Company Guide to Walt Disney World). Then we headed over for our first time at the
Animation Academy
!
We had seen the video with Mushu before but never got to try our hand at our own Disney drawings so we headed through and waiting in the character area between. Lucky us-
Sorcerer Mickey was there for a meet and greet
. This was our first time meeting Mickey in his Fantasia garb and I was very excited. The Photopass guys were totally flirting with me and Mickey was def girl but I don't care, I love these pics!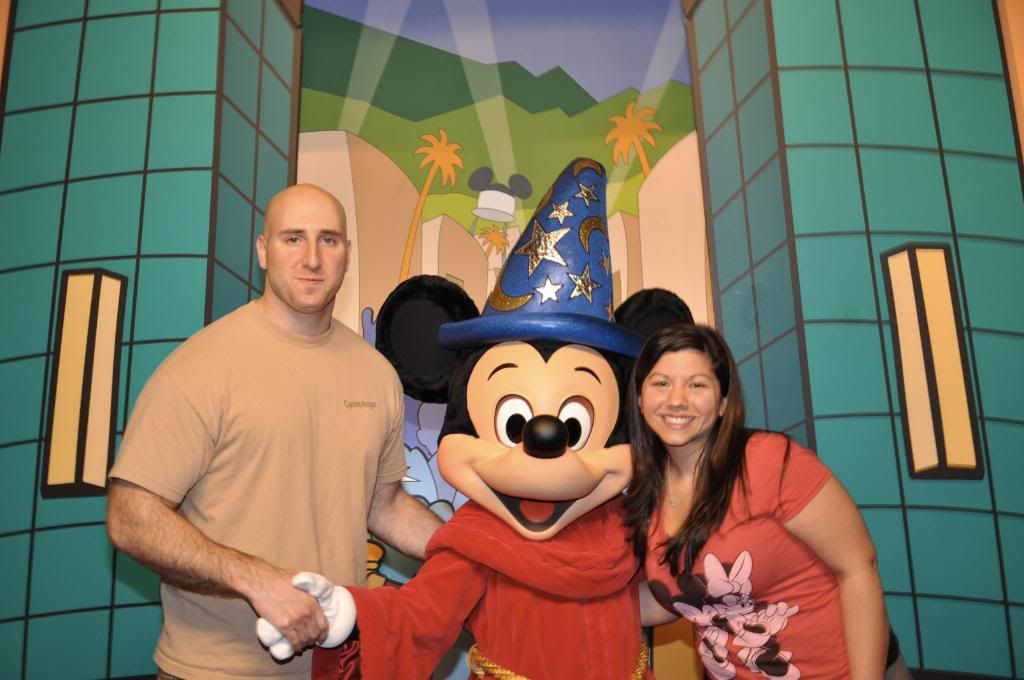 We were done with our pics in time to walk into the next session of the Animation Academy and we learned to draw Grumpy! Loooooved this and will def do it again sometime! It's my new favorite attraction at Disney's Hollywood Studios! The three elements of The Magic of Disney Animation were all fun attractions from the show to the meet and greet to the drawing!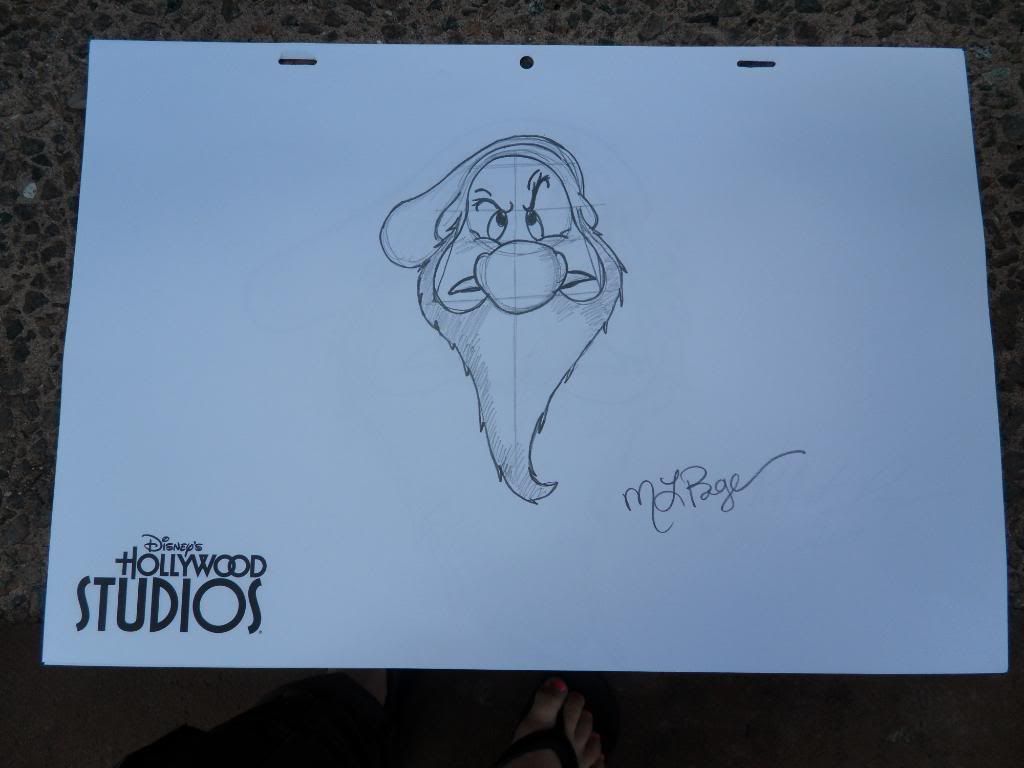 Next we headed out to use our Fast Passes but then started to go back and forth on it. On the menu instead- LUNCH! I convinced Rob to ride The Great Movie Ride and then we would pick someplace for lunch.
And we got the Cowboy version of it!
We allllways get the mobsters! Woot woot!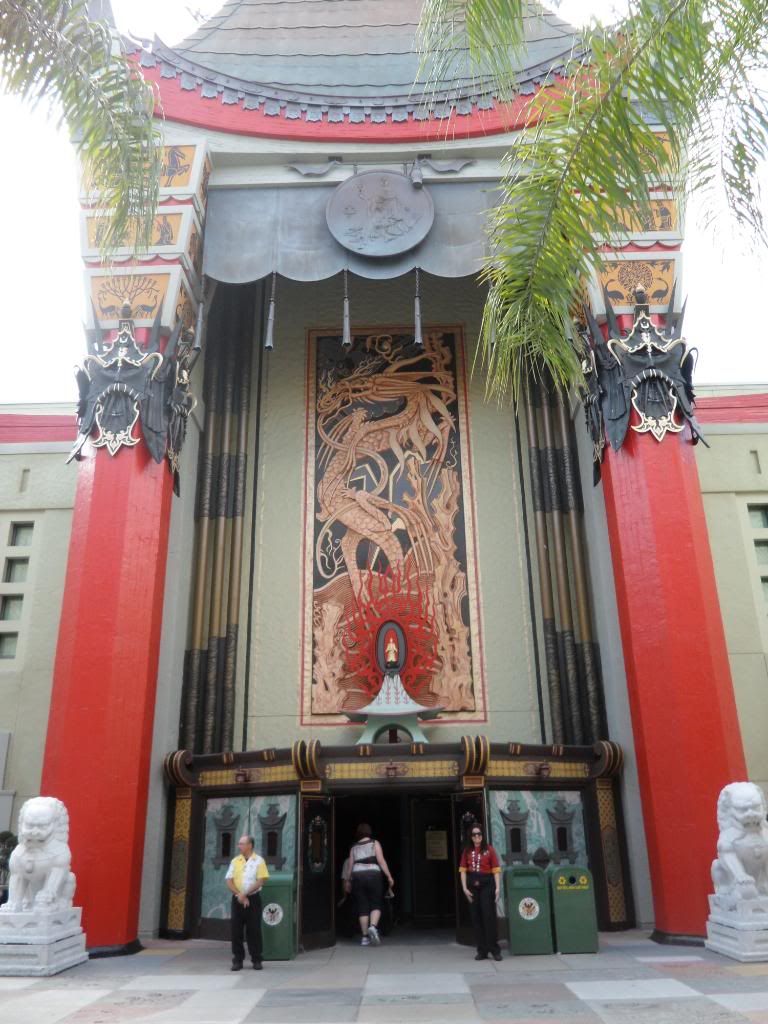 We decided that we were far too in love with the Polynesian so instead of eating at MGM (which is like my 4
th
favorite park.. lol) we would head back. But first we found a couple who looked around our age and paid forward a good deed that has been done to us:
passing on our fast passes
! This worked out great, especially after our bus was pulling up when we walked outside. We still needed to purchase our refill mugs and so we decided to have a quick
lunch at
Captain' Cooks
!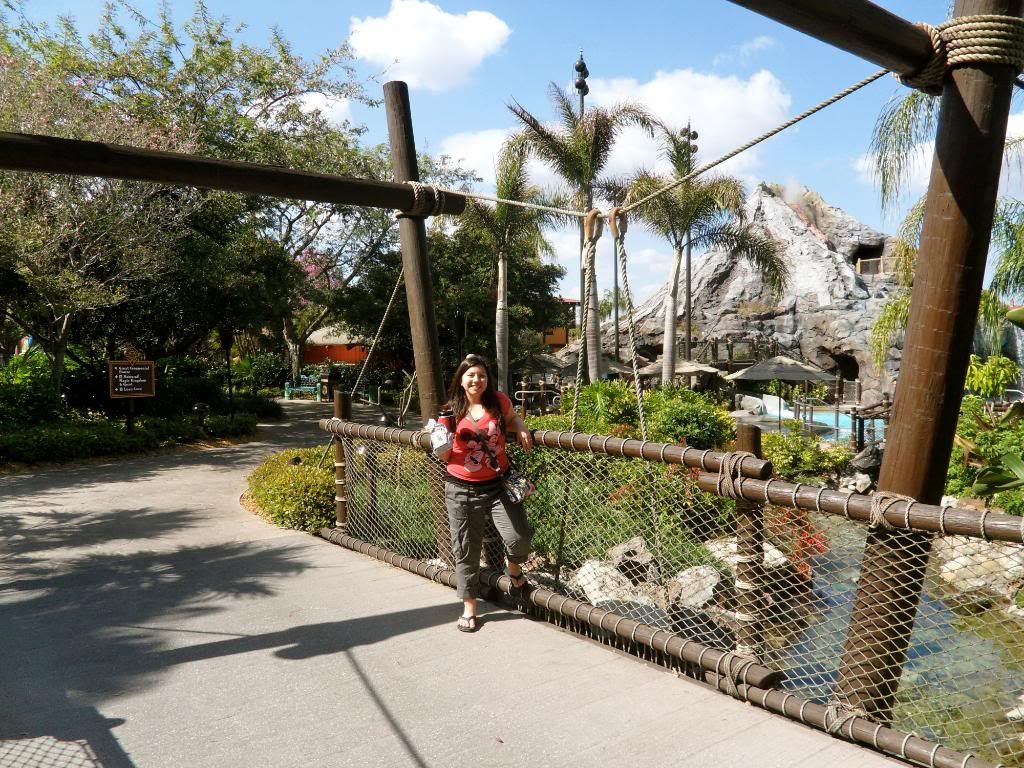 This was a fantabulous idea! The food here is great and its WDW's only 24 hour food court! This was our very first time paying out of pocket for food so we tucked away the receipt and then snapped a few more resort pictures before heading into Magic Kingdom via the
resort monorail at the Poly
!