Well, this is the end.
But luckily I was able to head back to the happiest place on Earth just 2 1/2 months after we got back! It was my first solo trip. I guess it was not technically solo because I was chaperoning a student (yes, you read that right... I was lucky enough to have just one student to chaperone) but it was my first time flying without other adults (lol) and being in Disney at all without my husband. Oh and going to Universal & Wizarding World of Harry Potter. It was a totally different excitement and I will surely post about it soon.
In any case, like the last post- this will be a super duper mega post. lol.
Our final day, and fourth full day in Disney, was starting with breakfast at
O'Hana
in the Polynesian. I highly recommend this character dining experience (and from what I have heard, the dinner here is also superb although sans characters).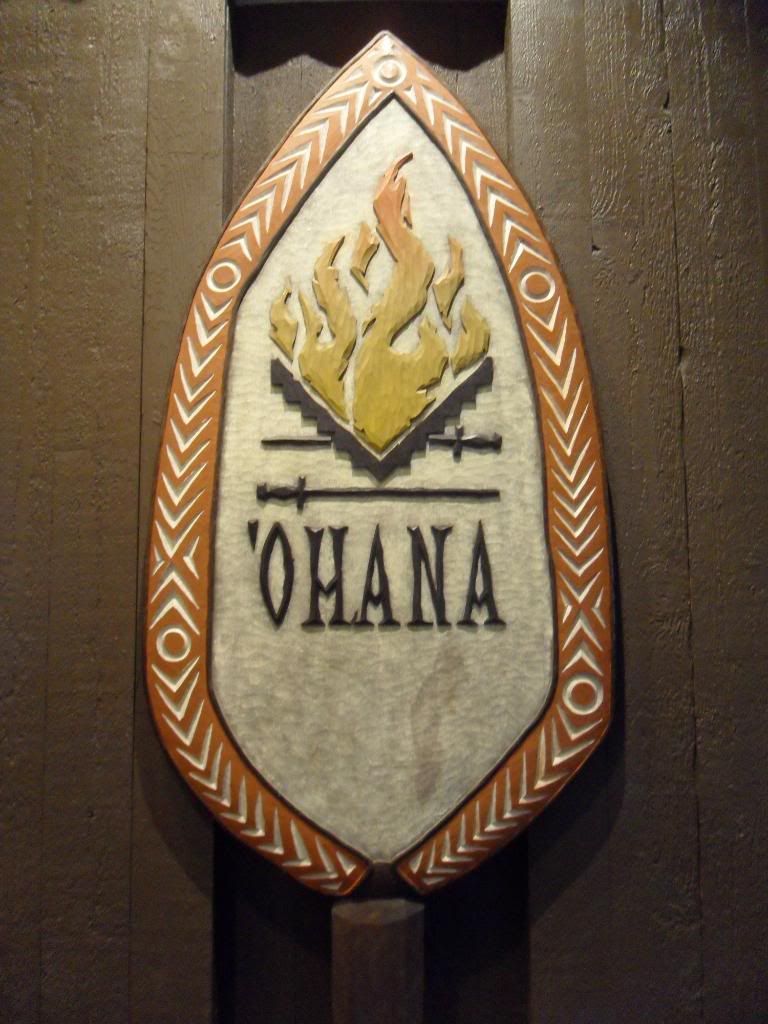 Now, this was a big build up for us. This was our 4th trip and our 4th time with reservations for breakfast at O'Hana, but only our FIRST time eating here! When we stayed at value and moderate resorts it was just to hard to work out the logistics and then on our last trip (where we stayed at the Boardwalk) we changed things up at the last minute when we found out that Cape May Cafe had a character breakfast and we could easily walk there.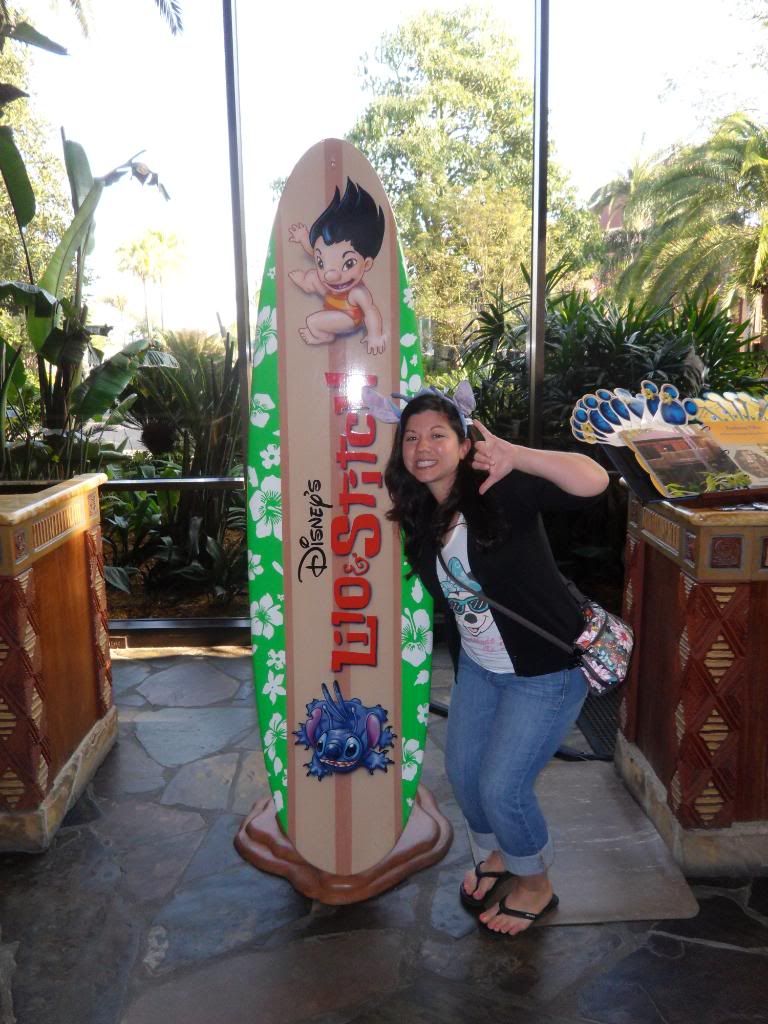 It was a long time coming and worth it. I think a really good Disney tip is to
not try and squish everything into every trip
. If things don't work out DONT stress out!
In any case we had fun in the lobby here, and in the restaurant. My husband always says "you can just take pictures with the characters" but then when they come around he gets sucked in. LOL.
Character meals are just a great place to get your meet and greets in
!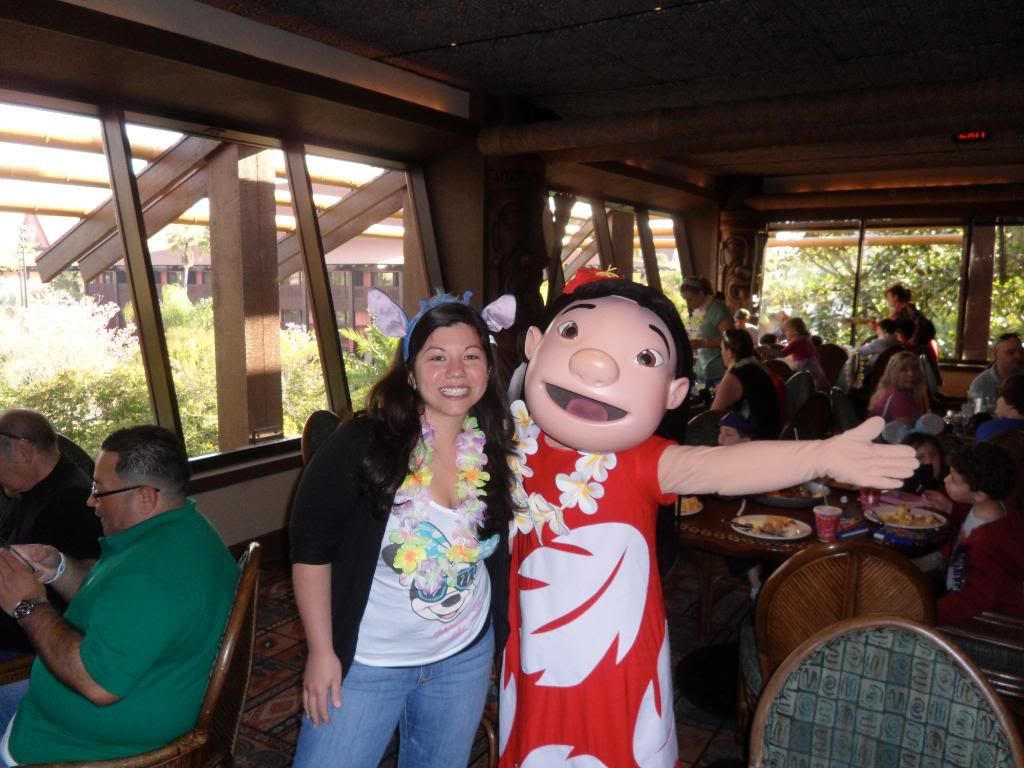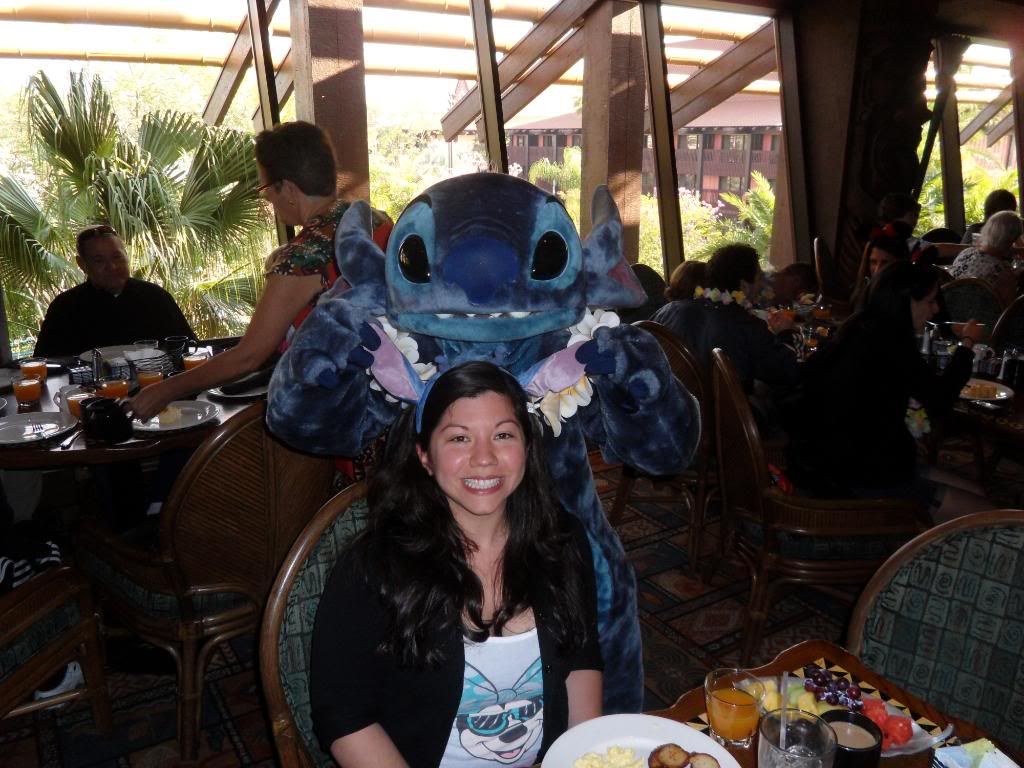 We had a great meal here and then over our eggs and waffles decided to
change things up
. Our original plan was to head over to Downtown Disney this afternoon, have dinner here, and then head on over to Epcot or Magic Kingdom for an hour or so. We decided to cancel our meal at Fulton's and do our souvenir shopping at Epcot instead. We had so much fun in Epcot the other day and like Magic Kingdom it is one of our favorites so we thought it deserved another day. ;)
We headed into Epcot.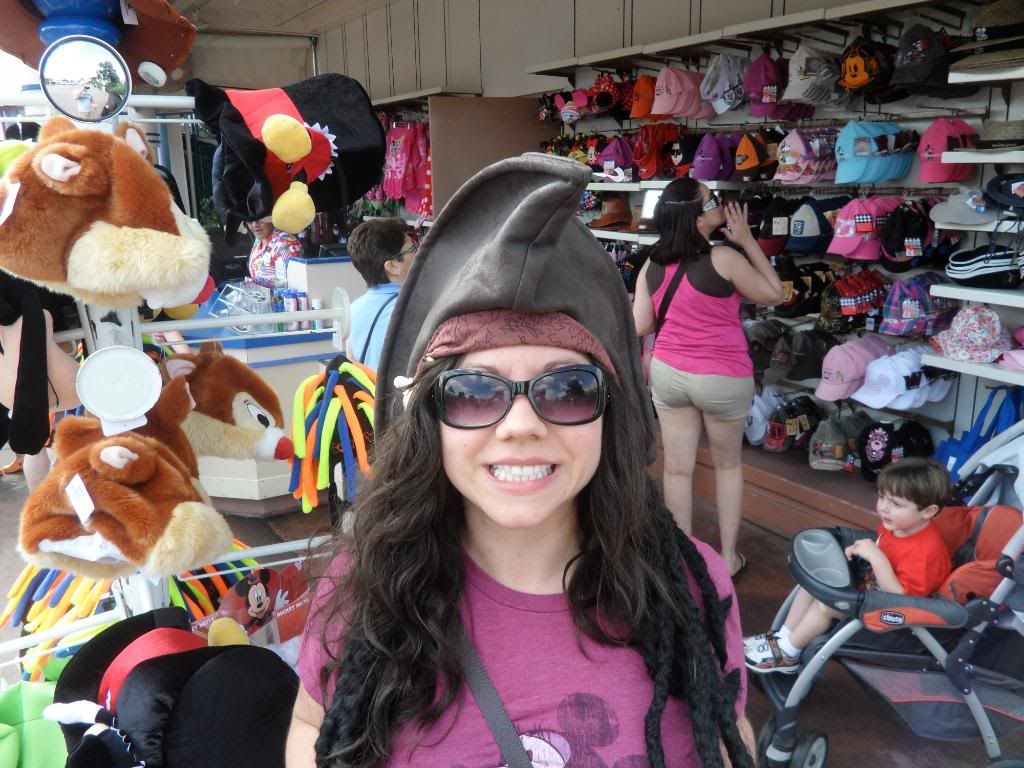 I wanted to get my mom something from the Italy pavilion and my dad something from the Germany pavilion so we headed right (literally) into World Showcase. Along the way we check out the pavilions we passed.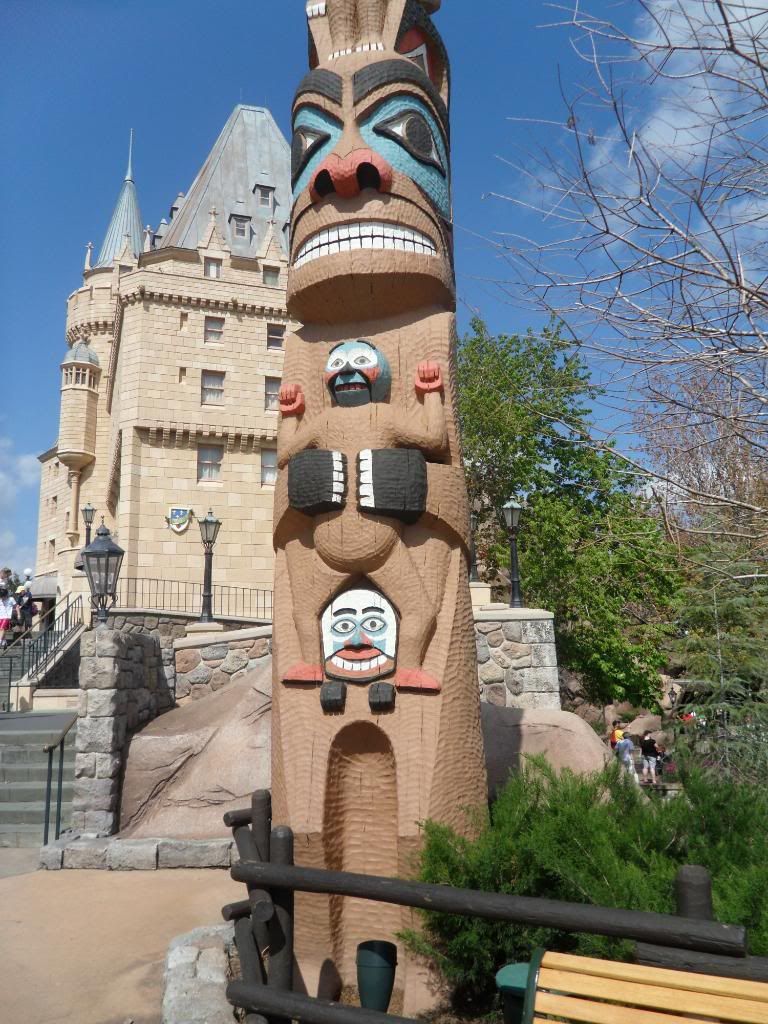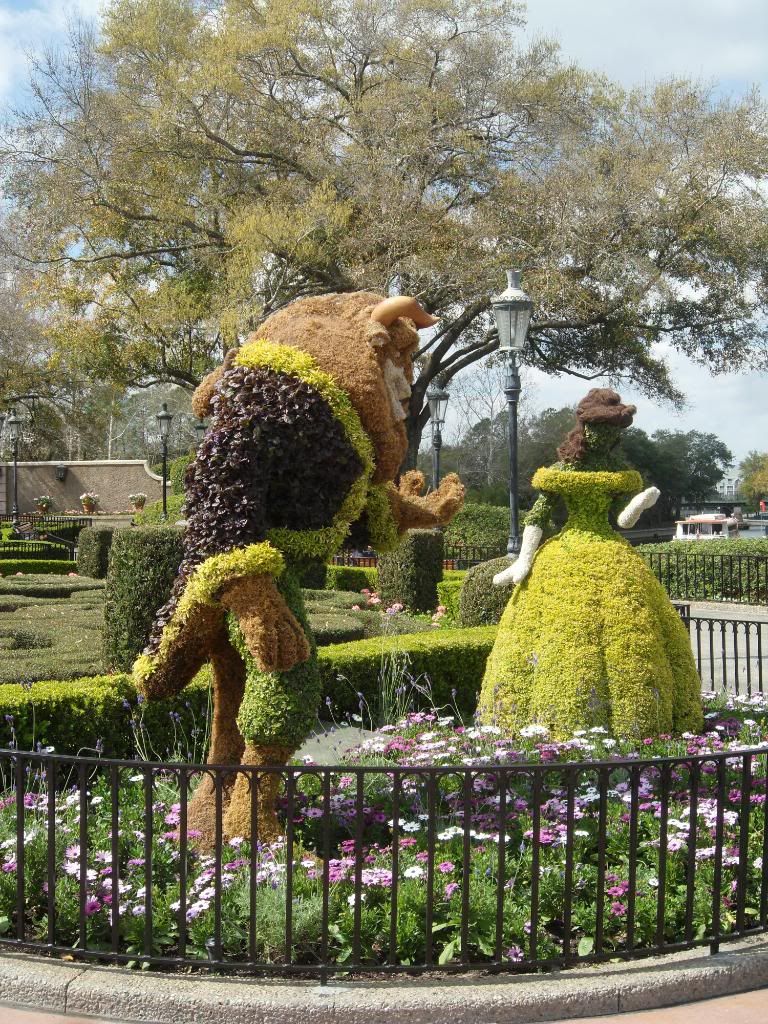 We
walked the streets of Canada
, stopped to make a quick call in the
english telephone box
, and
waited for the crowds to part so I could get a good pic
of the French topiaries. I had wanted to
use some of the architecture here for my classroom
so we made sure we stopped in front of the minaret in the Morocco pavilion. We checked out the
fountain in Italy
, and the
view of the lagoon as we walked
around.
We were able to get really cool and meaningful gifts for my parents since we got them in the pavilion of my ancestors. :) I was really happy with this and completely recommend
World Showcase for unique souvenirs
. We hit up Mitsokushi (which in case you didn't know is the largest department store chain in the world) to find something for our niece and nephews and I came across a blast from my past! MUNCHICHIS!
If you know what a munchichi is I think we might be best friends
. I got super excited by these! And in Mel & Rob form, we took pics!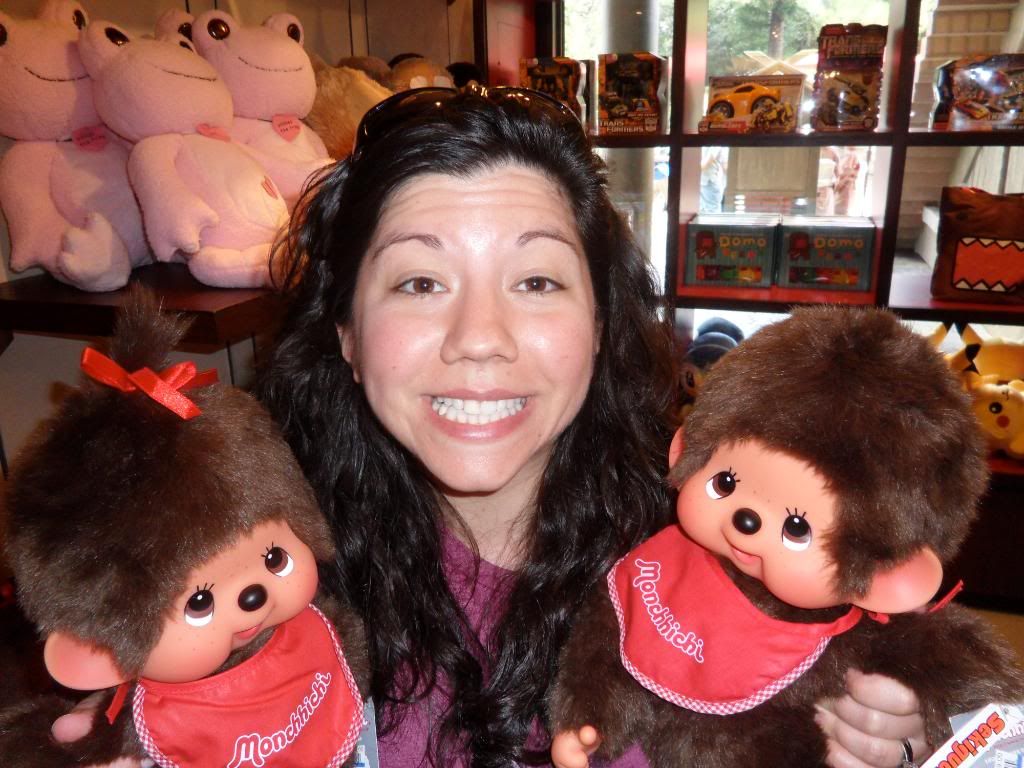 Afterwards we decided on
La Cantina de San Angel
for lunch. You can now sit inside the Hacienda with your food which is great! There are some nice big windows and I am sure this seating will be coveted in the summer months! I was happy to see some changes to the counterservice menu- this is one of our favorites! I had empanadas and a passionfruit margarita and my hubby had tacos and tecate. ;)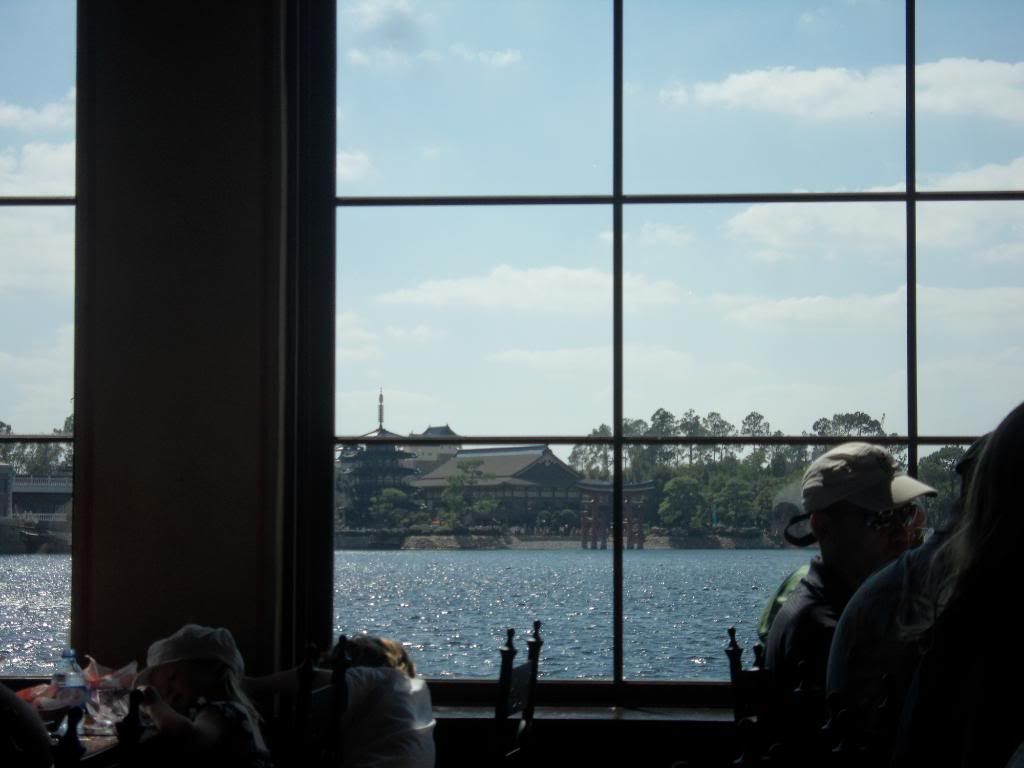 Once we finished our lunch, it was nearing 2pm so we decided to finish the World Showcase loop and stop in the shop at its entrance. We were able to get the rest of our souvenir shopping done, though it felt like we were in the stores forever! I was just happy that we
made a quick souvenir list
before we had left the room!
I don't have many pictures for the next couple hours... I think we might have had to go back to the Poly at this point and check-out, get our boarding passes, and give our bags to guest services. I highly recommend
requesting late checkout from your mousekeeper
, which by the way, is another reason that I think you should always
tip housekeepers
at hotels! we leave about $3-4 a day, and in WDW we leave it daily in envelopes marked "mousekeeping". It turns out to be a small amount of cash but I always feel like showing someone you appreciate them helps them be more willing to go out on a limb for you (and do things like late checkout). In any case, I also recommend
spending time in the parks before your magical express departure
. The hotel guest services in WDW are competent and caring.
In any case, back in Epcot, we headed over to
Imagination!
I freakin love Figment! And this ride is very nostalgic for my husband because he adored the original (with Dreamfinder). We rode The Seas with Nemo and Friends again, and then Spaceship Earth again, then I believe we had gotten FP for Soarin' at some point because that was our last ride of the trip. I didn't take a lot of pictures in the second half of our day because I had accidentally put my camera in the carry-on at the hotel so we only had our phones.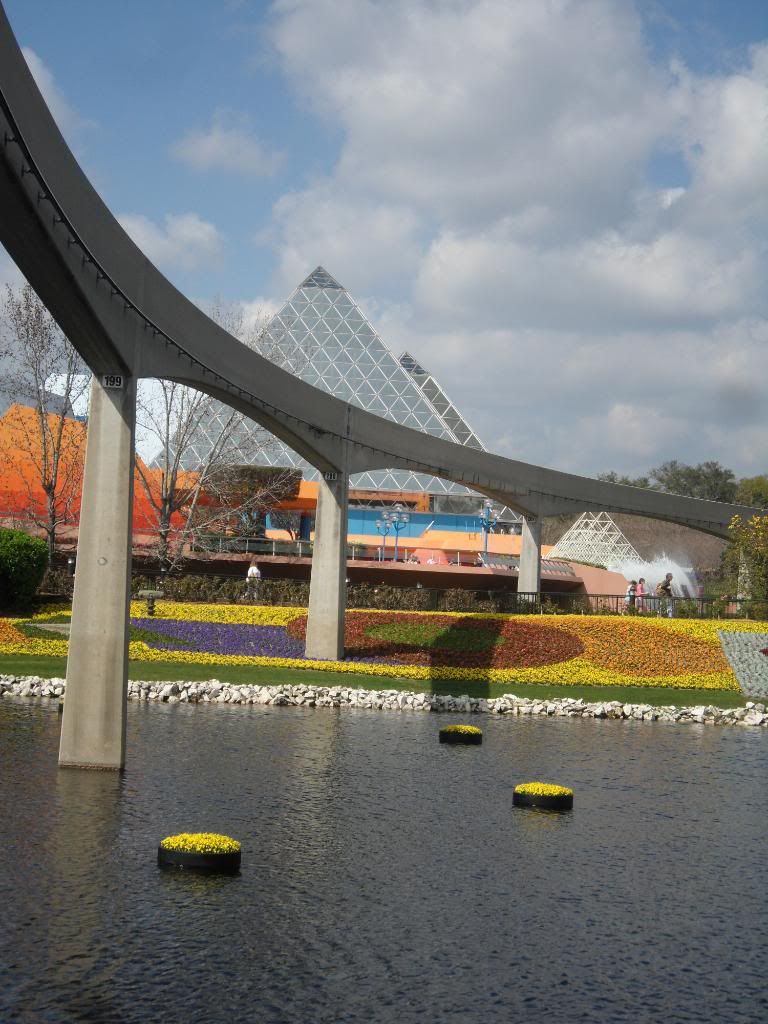 We stopped for a snack and some
people watching near the Leave a Legacy section of Epcot
and looked out at the people. No joke- I saw a guy wearing a belt that had a metal belt buckle with his name on it... and his name was Fred. Lawls!!! We also saw a girl wearing a "Got Clarinet?" tshirt. I don't know why this made me laugh but whatever I am immature. We decided that people watching is most fun when you are catching people who are on there way in or out of the park for some reason.
It was probably around 6ish by the time we headed back to the Polynesian. We grabbed our bags and waited for Disney Magical Express. We were sure not to leave
too much time
since there are lots of DME buses around to grab ya if you are late. Before we knew it we were doing the Disney World
walk of shame
, and I was trying not to cry as we left.
When we got to the airport we saw that our plane was delayed 20 minutes. We now had WAY more time then we needed so I took the opportunity to hit up the Universal store for Harry Potter stuff since MCO
basically is a mall
. LOL! I kept pretending I was running on the conveyor belts. HAHA!! I highly recommend that for a laugh- and trust me, we needed one since our plane was delayed for HOOOOUURRRSSS!!! And Southwest only delayed 20 minutes at a time so it was like a constant crapshoot. We set our stuff down in the food court, and relaxed for a bit passing the time
checking out our photopass pics on our phones
and grabbing a late meal. This was actually the first time we'd had a second to return emails and such since we
don't do a lot of texting/social networking on vacation
.
We finally boarded the plane, and I was exhausted. I decided I am not a fan of Southwest but don't feel like getting into the whys right now. I think for the reason we were stuck waiting it just could have been handled slightly better. All in all, I was actually happy to get on the plane and fell asleep for a couple hours. When I got up, hubby and I both started talking about
our next trip to Disney
. Which we had no idea would be just several months later back at the Boardwalk in October for Food & Wine Festival and the Halloween Party!
By the time we got home it was after 4 and I had to leave for work in a couple hours. Hubby went to bed, and I stayed up unpacking and sorting through our souvenirs. Then I
pulled on one of my new hoodies
and was off to work. (Luckily I had my lunch and prep periods in a row that day so I got to take an hour-long cat nap on the couch in the office.) Nap, or no nap it was worth it for my 100 hours in Disney! :D